This struck me as a special performance, particularly the evening set.
I didn't connect as much with the afternoon show, which I'm sure was as much due to circumstances as to the performance (or more). Due to subway holdups we walked in 15 minutes late, and after grabbing some space on the stairs, were bothered by a family with one obnoxiously loud child behind us. After it became obvious s/he wasn't going to shut up anytime soon, if ever, we shifted toward the center of the room, but it was a little more than half over by then. It also had the feel of a performance in a public place rather than a concert, if you know what I mean. Robert seemed aware that a good chunk of the audience wasn't going to be focusing, or even in the room for more than a few moments passing through in many cases, so it didn't have as much of a constructed-beginning-to-end feel. Or it could have entirely been me. I dunno. I remember a lot of darkness, and an ending that sounded somewhat peaceful, but more resigned than happy. If that makes any sense at all.
On the other hand, the evening performance was a marvel. No one was passing through on business anymore, so the audience that was there was there to pay attention, and the lights gave it more of a church-like feeling in a way.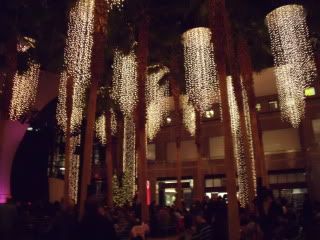 As we all concurred, the 'scapes were indeed more busy than usual. There were four or five recognizable solos during this hour. There was less darkness than usual (definitely less than there was in the afternoon) - perhaps two short stretches where things got very minor, one of which had a fierce intense solo that really gave me some goosebumps. But for the most part it was calm, and became especially downright gorgeous toward the end. Things faded out gradually, as they do, and ended with a big silence. Literally - the quiet filled the room as much as the sound did. It was totally still for what felt like a full minute at least. A wonderful moment. I'd suggest be keeping an eye on
WNYC.com
to see when their stream of the recording shows up. The host said it would hopefully be later this month.