This was my fourth ABPT show, and amazingly it might have been the best yet. The evil mistress didn't think it was quite her favorite, but that's largely because she prefers songs to instrumentals, so it's her loss. I'm more blown away by a good jam, and the trio's getting more daring than ever when it comes to flying into uncharted territory. "Beat Box Guitar" manages to STILL keep going farther out every time I hear it live, and they actually threw a similar whirly soundscapey interlude into the middle of "b." It's hard to believe how far the
e
material has come even this soon after its release - can't imagine what it'll be like in a couple more years. Even more impressive for such a relatively obtuse instrumental piece, it had half the room bouncing like we were at a midnight rave.
You probably know what the band's like by now. Adrian's as happy & exuberant as ever...
...and - believe it or not - Julie's become quite the stage presence. "Madness" especially gave her a chance to show off and strike some rock-star poses. I still refuse to believe it's the same person we saw barely moving a muscle a couple years back.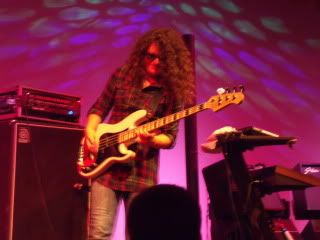 I'd be happy to just see these three jam no matter what the songs are, but it's nice that they're also mixing things up a little every time. And of course, even the more familiar songs still blew the roof off.
Big Electric Cat
a
b
Drum solo (most excellent)
Young Lions
Ampersand
Beat Box Guitar
c
Neurotica
Madness
Of Bow & Drum
Color Futurevision
e
-----------
Lone Rhino (full band!)
3PP
I wonder if they've ever considered playing "Whatever." I kept meaning to suggest it to one of them, but the lobby was mobbed enough afterwards that the band & crew already had their work cut out for them. Regardless - highly worthwhile, as always. They really never disappoint.
http://www.youtube.com/watch?v=LOxeXaPz6fg
http://www.youtube.com/watch?v=vnJPVRar_2g
http://www.youtube.com/watch?v=LoZo9ulSlZE